Partners
Subscribe to posts
Grandir sans frontières (Growing without borders) is a non-profit organisation based in Verdun (Montréal). Our goal is to reduce the digital gap by providing computers to people in need, cheap computer services and computer courses. 
Grandir sans Frontieres collaborates with Fablabs and Makerspaces in Montreal on educational activities. Examples of joint activities with SENSORICA: 
Motivation
Offer a digital education aspect to the project, bring our expertise in digital education, especially with young people.
Expectations
Human resources : people with digital skills + space to organize our activities
Organization
URL
http://www.breathinggames.net
Breathing Games is a commons that aims to promote respiratory health and autonomy by encouraging people to take healthcare into their own hands – that is, the appropriation of care by each citizen. Breathing Games is supported by Concordia University, Sainte-Justine hospital, Sensorica innovation lab and other organizations. It is a member of the Open Source Initiative, a coming member of the Global Alliance against Respiratory Diseases, and a signatory of the United Nations GlobalCompact.
Motivation
We want to invite Verdun citizens to learn about respiratory health and autonomy and get *inspired* to contribute to the initiative, and possibly adapt it to meet other challenges in society.
For 2017, we intend to organize five game jams (playful prototyping events) to create free/libre and open source games and hardware for respiratory health. This will take place at Concordia University. We will also organize five keynote speeches on commons, free software and open hardware. We could organize such an event in Verdun, in collaboration with our partner institutions. Other possibilities could be discussed according to the respective interests.
Expectations
We want citizens to take ownership of their health by co-creating playful learning experiences for people affected with chronic respiratory diseases – one person out of five in the world. Their contribution would enrich the commons, which would help meet the 2030 United Nations goal of a healthy life for everyone and everywhere.
Organization
URL www.esplanademtl.org
Un espace de coworking et accelerateur, a but non lucratif.
L'Esplanade est un accélérateur et un espace collaboratif dédié à l'entrepreneuriat et l'innovation sociale.
Motivation
Contribuer à l'émergence de nouveaux espaces collaboratifs en dehors des arrondissements centraux. Partager et transférer notre expérience dans la création et la gestion d'un espace collaboratif.
Expectations
Établir de nouveaux liens avec des espaces collaboratifs à Verdun et découvrir des nouveaux projets d'innovation sociale.
Organization
URL 
http://brico.bio
A biohacking network
Bricobio is a makerspace for biotechnology. Rather than depending on industry, academia or other restricted sources for learning/teaching biology, we're creating an open community where artists, scientists, entrepreneurs, youth and anyone can be involved in building a space.
Motivation
We want to create more spaces and collaborate with other makers to revolutionize the way people learn and do biology.
We can provide expertise, equipment and a share our space with other groups who have an interest in working with or integrating biology with their projects. A few example topics that are popular for biological makerspaces can include work in agriculture, environment, citizen science and art.
Expectations
We're looking for space, funding and a supportive community to work with.
Organization
URL
www.PODnet.is
An urban agriculture o
nline community: ~400 members, 40 active members worldwide and four core members in Montreal 
PODpioneers are any individual or community that grows food using the "solaroof" method-- a bubble-insulated, liquid-cooled roofing system that regulates the interior temperature to achieve temperate temperatures in various climates to extend the growing season and protect plants and living things year-round. Pioneered in Montreal and applied in Norway, this method is offered to be presented to the public by the PODpioneers.
Motivation
PODworks wants to engage with other members of the open collaboration economy to learn how to better participate in this realm. We would like to engage with other groups interested in urban agriculture and living labs. We would like to build, test and share innovations that we have been working on that have been developed proudly in Montreal, by Montrealers. We would like to deepen our understanding of the work Sensorica and Ouishare have been creating in hopes of developing solutions to extending the season for growing food in an urban environment with harsh winter temperatures.
We want to create a small-scale aquaponics installation that is housed in a transparent, double-membraned, polyethylene-covered roof covering. It will be used to grow pepper plants or tomatoes. We want to monitor the growth of the plants within the conditions of the insulated, transparent roof system. We would have our "solaroof" prototype onsite with presentation materials on how it is supposed to work or we can build a full structure to invite other urban agriculture groups to grow food in the space which is similar to the community project we developing in Toledo, Ohio.
Expectations
We expect to develop positive partnerships with other groups and organizations in the VOICE project to help grow the collaborative economy in Verdun. We would like to get more members in Verdun with expertise in engineering, hydroponics, and automation and urbaan agriculture to collaborate on a "living lab" type project to grow food using various methods that are measured in real-time for at least a five consecutive seasons (spring to winter to spring).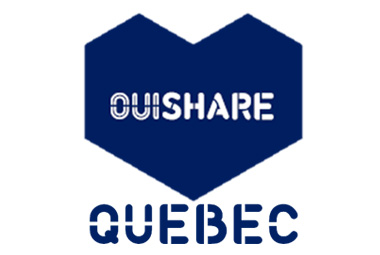 Vision
Ouishare MTL envisions a resilient and sustainable city in which we are all empowered through universal access to resources, production and structures.
Ouishare MTL travaille à l'emergence d'une ville résiliente et durable dans laquelle chacun dispose d'un accès universel aux ressources, à la production et aux structures de fonctionnement.
Mission
Ouishare MTL connects people and initiatives in order to promote and inspire a collaborative ecosystem and culture, as part of a global transition.
Ouishare MTL connecte des gens et initiatives dans le but de promouvoir et d'inspirer un ecosysteme et une culture collaboratifs dans le cadre d'une transition globale.